Las Vencías
Sleeps 10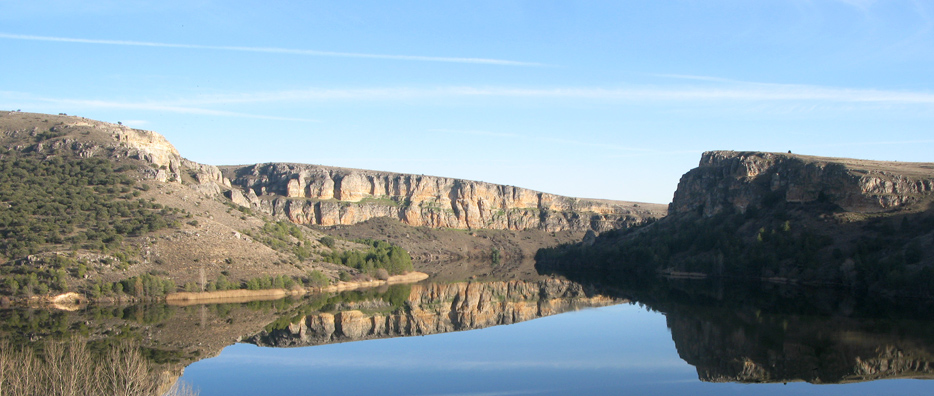 The cottage, Las Vencías, is located on the slope of the dam of the same name, formed by the waters of the river Duratón downstream of the Natural Park of the "Hoces del Duratón". This part of the river is between the villages of San Miguel de Bernuy and Fuentidueña. The water runs between rocky cliffs with nests of vultures and other birds of prey as well as ancient monasteries, now in ruins.
The house is located only 50 metres from the water's edge, in the wider area of the reservoir. In this reservoir you can do different activities, such as swimming, canoeing or fishing.
We also provide our customers a great private swimming pool, from which commands a spectacular view of the reservoir, its banks and rock walls.
Pets are allowed.
Inside
Twin bedrooms (x2)
Double bedroom
Bedroom with 4 beds
Bathrooms (x2)
Toilet (x1)
Dining room
Kitchen
Lounge
Facilities
TV, DVD or video
Hi-fi
Washing machine
Microwave
Heating
Dishwasher
Fireplace
Selection of games
Cot (upon request)
Outside
Garden
Barbecue
Terrace
Swimming pool
Garden furniture
Car-parking facilities
Prices are just guidelines, with a minimum stay of two nights. For any stay don't hesitate to contact us, we will provide all details without compromise.
| Season | Night | Weekend | Week |
| --- | --- | --- | --- |
| Low | - | 450.00 € | € 1100.00 € |
| Mid | - | 500.00 € | € 1100.00 € |
| High | - | 650.00 € | € 1100.00 € |
Direction
From Madrid take the motorway towards Burgos [A-1], at Cerezo de Abajo take the [SG-205] towards Cuellar/Cantalejo. In Cantalejo take the [C-603] towards Aranda de Duero. You will pass through the villages of Fuenterrebollo and Navalilla and 4 km from here take the road towards Fuentidueña, Sacramenia, until the junction for Los Valles de Fuentidueña (3.5 km). Just opposite the bus stop in this village take the path on the right side of the road down to the reservoir. Once at the water continue along a path that leads to the house (on the right).